This new adventure blanket keeps you warm and comfortable everywhere you roam.
Find out what campers, hikers and travelers are switching to 👇
"Expensive, but the quality is exactly what you'd expect from a top tier gear company - extremely happy with Puffle. The team is just as high quality as the gear - Thank you!"
⭐️⭐️⭐️⭐️⭐️ Patrick
"Puffle is the piece of gear you wish you'd had growing up, I use this every time I travel. It also works great on our camping trips, I've taken well under the stated temperature rating - to me that's the sign of well made gear"
⭐️⭐️⭐️⭐️⭐️ Tod
"Honestly, it just makes camping more fun. There's no fuss with Puffle - it's such a welcome friend every time I camp"
⭐️⭐️⭐️⭐️⭐️ Jennifer
If you aren't enjoying 8+ restful hours of warm sleep every time you're away from home, it's not your fault - it's your gear's fault.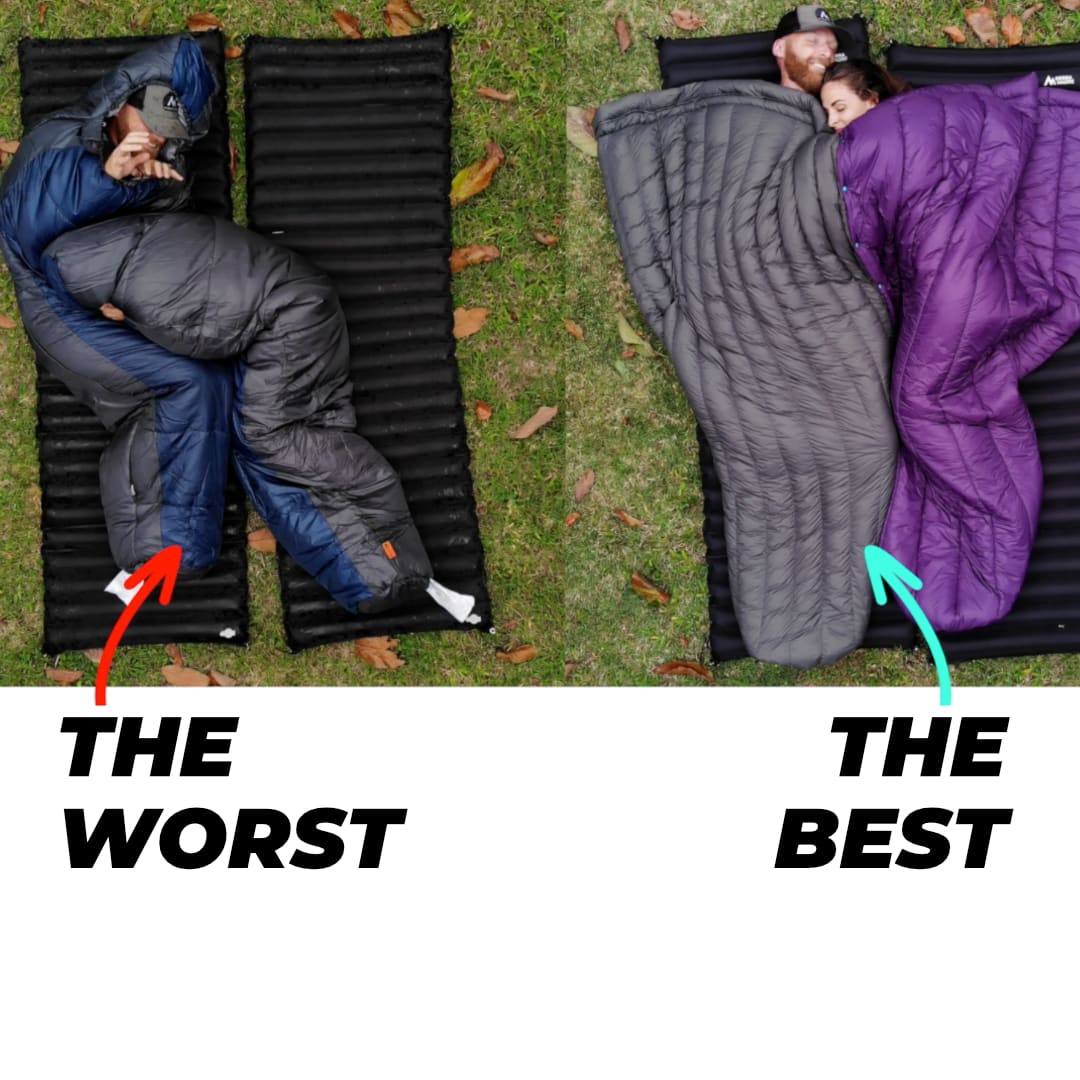 We've all been there, restlessly tossing and turning in our mummified sleeping bag, just waiting for morning.
Here's the problem with your old Sleeping Bag:
❌ Restrictive: Impossible to sleep freely in a nylon coffin
❌ Cold Spots: The restrictive nature can cause cold spots
❌ Snagging Zippers: They break or stop working
❌​ Single Use: To be so expensive, heavy, and bulky... They AREN'T VERSATILE.
Puffle solves this, allowing you to sleep warm and free at camp..
Just like you do at home.
✅ Better Sleep: Stay warm all night at camp, while still being able to stretch out.
✅ ​Carry Less Weight: Lighter than your sleeping bag and more compact.
✅ Use Puffle More Places: Willing to bet you don't snuggle into your sleeping bag when you're on the couch...
"Took the Puffle 40°F on a mid-November trip to Colorado. It got down in the teens outside. I stayed warm under the Puffle all night!" Charles S. | Wichita, Kansas
"I cannot say enough how much this gadget girl is loving Sierra Madre products!!! I started with 2 Puffles, a couple weeks later had to have the Hot Pocket, then the Pufflo+, and now the EMBER jacket, just to name a few... gunna have to get a second job to feed my addiction! These products are useful in so many more ways than just for camping." - KODR | California
"The perfect combination of weight and warmth. I have no idea how the engineering works on this but I DO know that the warmth and ability to completely block frigid wind-chill is unlike anything we've every experienced. We had a blue norther blow through this morning and the temps dropped from 42 to 16 in a couple of hours and a 25-28 mph wind made it feel like -10. But none of that stopped me from starting and ending my day on the back porch thanks to our new Puffle!" - Greg S. | Montana

Ready To Enjoy More Time Outside?
(and be a lot more comfortable?)
Puffle is ready for anything you can throw its way. From camping, to traveling, to netflixin - Puffle will keep you warm and cozy anywhere.
"The first night I wrapped up in my Puffle it felt like I was back in my own bed - so comfy, and it's not like that sweaty nylon feeling you get from your sleeping bag. Puffle is a soft but strong warmth that lasts all night!"
⭐️⭐️⭐️⭐️⭐️ Jill
✔️ Surprisingly Warm: Comfort rated means this actually keeps you toasty warm vs. typical survival ratings.
✔️ Small & Light: Compresses down small and packs out light thanks to the included Compression Bag.
✔️ Versatile: I've used it in a lot of different places like: tent, hammock, van, home, air travel.
✔️ Multi Function: It is so much more than a blanket, it is a Top Quilt, Under Quilt, Poncho, Sleeping Bag, and It's Stackable AND Linkable.
✔️ Hidden Pocket: A spot to keep your phone & valuables safe.
✔️ Weather Proof: I got caught in the rain with it, but I was bone dry.
✔️ Two Draft Collars: No gaps or drafts anywhere, keeps my toes nice and warm.
✔️ Soft yet Durable Fabric: It feels great on your skin (think silk) but it's tough and also really quiet.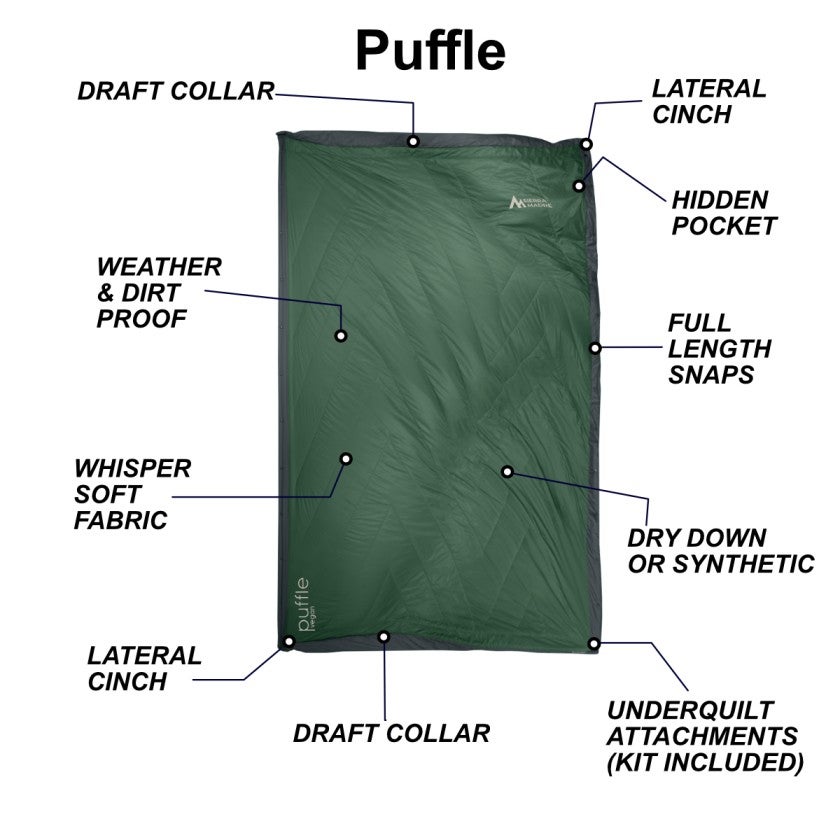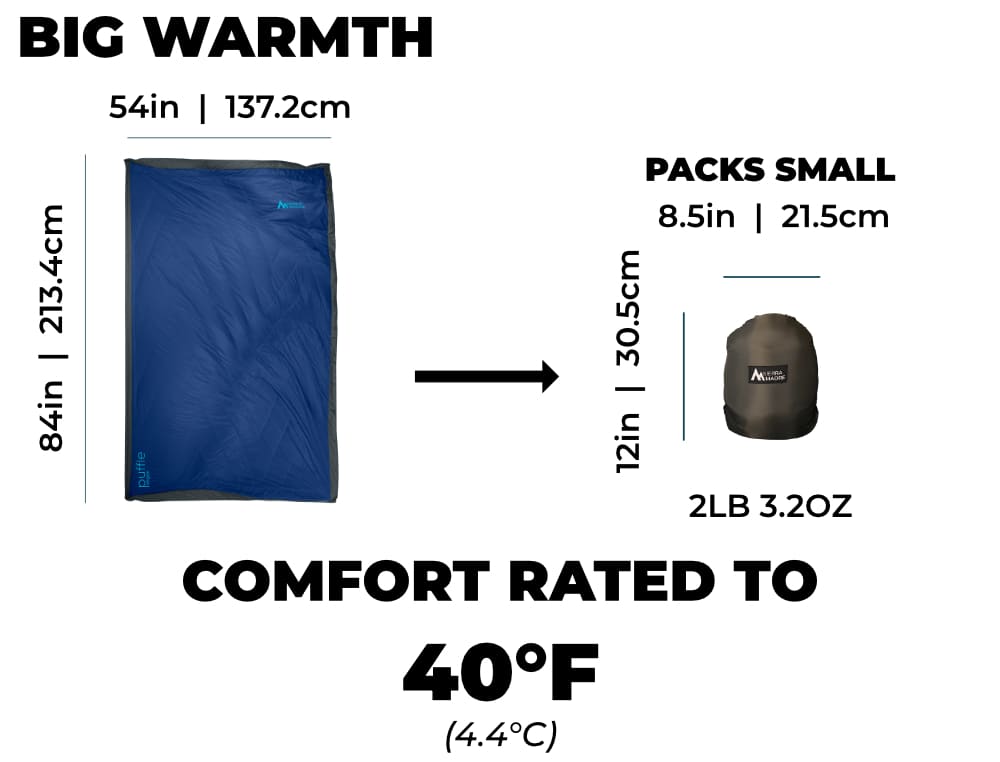 "I love it and would highly recommend Puffle if you like sleeping warm and free in the backcountry"
Jono / Trail name: AlpineSloth
⭐️⭐️⭐️⭐️⭐️
While Supplies Last, Buy One Get One FREE Today!
✅ Save $199 Today
✅ FREE Shipping Today
✅ 100% Rock Solid Guarantee
✅ 30 Day Risk Free To Try It & Love It
"I got a chance to use my new Puffle. I took an extra quilt just in case. Holy cow I was impressed. It got down in the 30s and I was actually hot. Definitely a happy customer 💯." Rick | Las Vegas, Nevada
"Most versatile (quilt) ever. New to winter hammock camping but don't have a ton of money, I used 2 x 40° degree Puffle, snapped them together, used the provided hammock attachments, and drew up the draft tubes. This kept me warm all the way down to 21 with wind and snow! Sierra Madre makes some of the best camping equipment out there, this will be a part of your permanent kit." F.C.C. | Minnesota
"I purchased Puffle to replace 20 yr. old, nylon sleeping bags that were falling apart. I am so glad I did! They are warm, easy to pack and take up much less room than the old bags."
Barbra | Virginia
Why You Want NEED Two Puffle
Puffle's full length snaps allow you to stack or link Puffles together!
Puffle's Versatility Speaks For Itself
The value in Puffle's versatility is incredible. Buying all of these items individually (how everyone else sells them) would cost a small fortune.
Just look👇at what Puffle replaces 👀
✔️ Blanket: $99 - $200
✔️ Top Quilt: $189 - $299
✔️ Under Quilt: $199 - $299
✔️ Poncho: $79-$99
On the LOW End You're Looking At $566
BUT
Paying For High Quality Puts You At $900
Puffle replaces the need for ALL of that gear, at a fraction of the cost.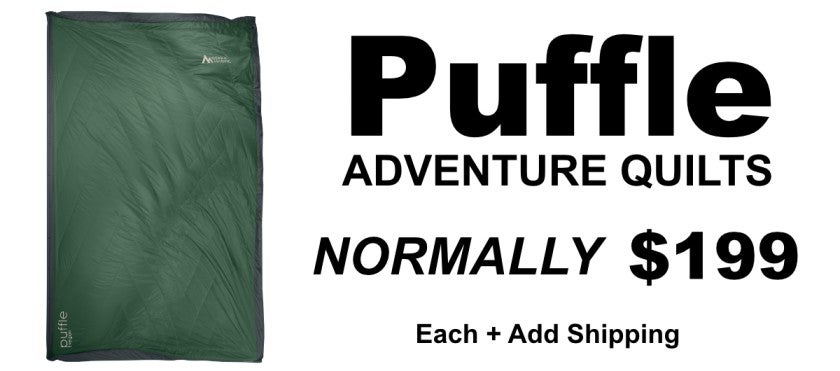 While Supplies Last, You Can Get TWO Puffle For The Price of ONE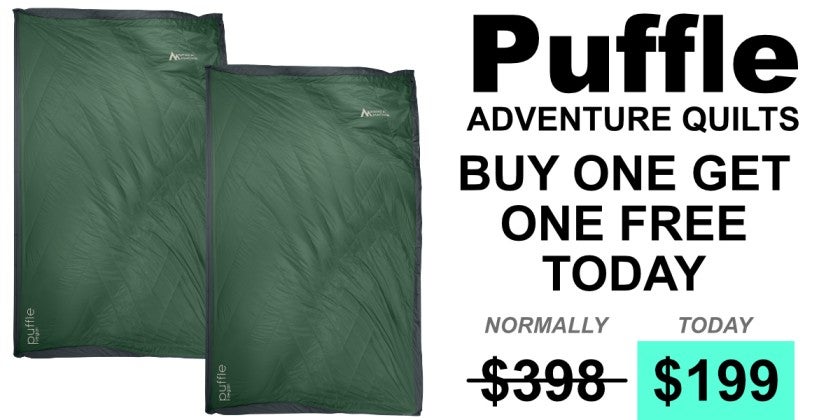 ✔️ 2 x Puffle Adventure Quilts
✔️ 2 x Compression Bags
✔️ 2 x Under Quilt Kits
✔️ FREE Shipping
✔️ 30 Days To Try It And Love IT
STEP 1: Pick Your Bundle Savings
Buy multiple units and save even more!
Show order summary
Hide order summary
$0.00
STEP 2: Shipping Information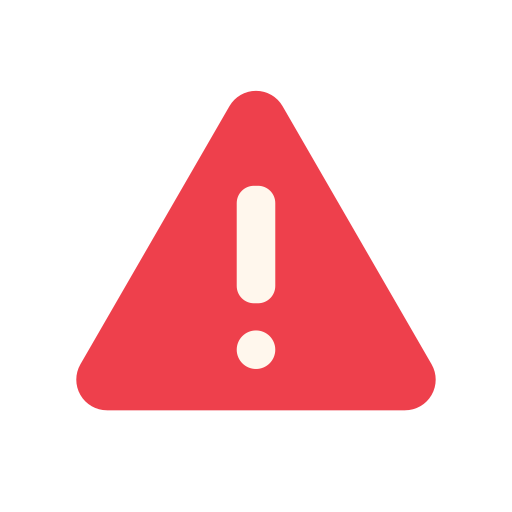 LIMITED STOCK
Gear Reserved for
14:55
🔒 Secure 256-bit SSL Encryption
"Best Customer Service and Communication I've ever received from any order online" Chris F. | Minnesota
"When items say they are "comfort rated to x degrees" I always assume it's at least 20 degrees off. I HATE to be cold and was expecting to be chilly during our first van camping trip. It was about 30 degrees outside overnight and I was sure I'd wake up cold and need to start the van for running the heat. I was SO wrong! I covered up with an unsnapped Puffle 20 and actually stuck an arm and a leg out most of the night. I was really that cozy and warm with only the Puffle 20! It isn't like I was wearing flannel pajamas either. I slept in a T-shirt and underwear under my new favorite blanket. Can't wait for many more weekend road trips knowing I'll sleep warm in my vehicle. Yay!! So glad I took a gamble ordering the blankets. My husband was equally warm so it wasn't just me. :)"
Norma | Illinois
100% ROCK SOLID GUARANTEE
We stand behind all of our gear, like our life depends on it. If you are not in love with your Sierra Madre gear after trying it out for 30 Days, we'll buy it back. Plus we have a full 2 year warranty replacement and lifetime repairs.
Unconditional Guarantee
30 Days to try it and love Puffle, and we back our products for life.
Fast Shipping
Orders are typically shipped same business day and arrive in 3-5 days.
American Owned
Sierra Madre is proud to be an American-owned company.
Shop With Confidence
Sierra Madre and sierramadreresearch.com and sierramadrecamp.com are guaranteed with encrypted SSL protocol.
NEED HELP? CALL OR EMAIL US
Secure Checkout
📞 Call: (970) 509-3964
customerservice@sierramadreresearch.com
30 Day Money Back Guarantee
Founded in 2010, Sierra Madre has built a 200,000+ strong community of people who love our products, that story above is just one of many.
We believe in 3 things.
✔️ Hyper Quality: We stand behind our gear 100%.
✔️ ​People First: We serve you with excellence.
✔️ ​Designed Solutions: Gear built by Wildlings and For Wildlings.
What Our Customers Say About Sierra Madre👇